Solidarity and SHAPE mix during this unprecedent global situation
Publish on 1 April 2020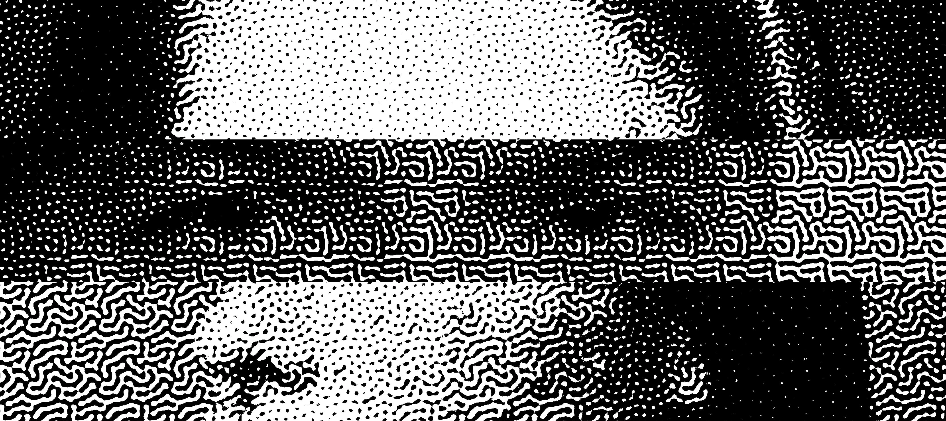 Due to the current health situation, some of Electroni[k]'s all-year activity are canceled or postponed.
First of all, we want to manifest our solidarity and support all the artists, festivals, booking agencies, organizations, professionals, audiences, and all the people impacted and affected by the quarantine measures and those who have to face cancellations and postponements.
If you can: support the artistic sector (by buying music from artists on Bandcamp or other fair platforms, make a donation or don't request a refund of your tickets…), stay at home and take care of you and your relatives.
To wait and enlighten this period of confinement, which we hope will be united and creative, we invite you to hear a 2020 SHAPE mix, specially made for you.
Tracklist:
01 [Ben Bertrand] – Orion molecular cloud (NGC 1999, 2018)
02 [Upsammy] – Bronze goddess (Branches on ice, 2019)
03 [Kutin | Kidlinger] – I throne ft. Elvin Brandhi (Decomposition IV, 2018)
04 [Fausto Mercier] – Glut (Fullscreen, 2019)
05 [Lyzza] – +00 burner call (Defiance, 2019)
06 [Céline Gillain] – Fight or flight (Bad woman, 2018)
07 [Kйr] – Topot (Balčak, 2019)
08 [Poly chain] – I feel like a tourist in my hometown (Currency, 2019)
09 [object blue] – Pure (Total Solidarity – benefit compilation for grassroot LGBTQIA+ organizations in Poland, 2019)
10 [c / a] – Its me who decides on my end (Bandcamp single, 2019)
11 [Rian Treanor] – Ataxia_D3 (Ataxia, 2019)
12 [Afrodeutsche] – Filandank (Break before make, 2018)
13 [Jay glass dubs] – The controversial control (Nyx, 2019)
14 [Širom] – A washed out boy taking fossils from a frog sack (A universe that roasts blossoms for a horse, 2019)
15 [Xin] – Crrrash! (Melts into love, 2019)
16 [Lawrence Lek & Oliver Coates] – Dragons (Unreal estate OST, 2015)
17 [Simina Oprescu] – KI 00 (Soundcloud single, 2019)
18 [Cam deas] – Four flows (Mecanosphere, 2019)
19 [Piezo] – Steady can't steady can't stay (Steady can't steady can't stay, 2019)
20 [Oliver Torr] – MH1034 (Muswell, 2018)
21 [Aquarian] – Gotasoul (Umami '93 remix) (Gotasoul, 2018)
22 [Stellar om source] – Lost codes (I see through you, 2019)
23 [Oli XL] – Liquid love (Rogue intruder, soul ehancer, 2019)
24 [Lyra Valenza] – Down not out (Scan, deliver, 2018)
25 [Tadleeh] – Virgo? (Ego will collapse, 2019)
26 [FOQL] – Move up that ladder (2010 – 2019, 2019)
27 [Schake] – Cold hands (Met her at the herrensauna, 2019)
28 [VTSS] – Sober raving (Hellcat vol.1, 2019)
29 [Moshea 13] – Lumière (Machine gun, 2018)
30 [Virgen Maria & perth Daijing] – Blex (G.O.D., 2019)
31 [Elvin Brandhi] – I said if (Shelf life, 2019)
32 [Oktober lieber] – Her morphology (In human, 2018)
33 [Animistic beliefs] – Mescal/Druid (Mindset:reset, 2019)
34 [Rojin Sharafi] – Zoetrope (Urns waiting to be fed, 2019)
35 [Yann Gourdon] – Intermarché (Intermarché, 2004)
36 [Richard Eigner] – When the days all tip from nests and fly down roads (When the days all tip from nests and fly down roads, 2016)
37 [Rill Bell aka the preterite] – Crater's edge (The preterite: one, 2019)
38 [Ma'iwa] – Kron (Goldfishing, 2019)
39 [Svetlana Maras] – Matt & Kyoung (Tala, 2016)
40 [Alois Yang] – Pt.1 (Micro loop macro cycle, 2018)
41 [Sacrifice seul] – Beta wine on Venus (Soundcloud single, 2018)