The Ceremony ► new international collaboration
Publish on 11 March 2020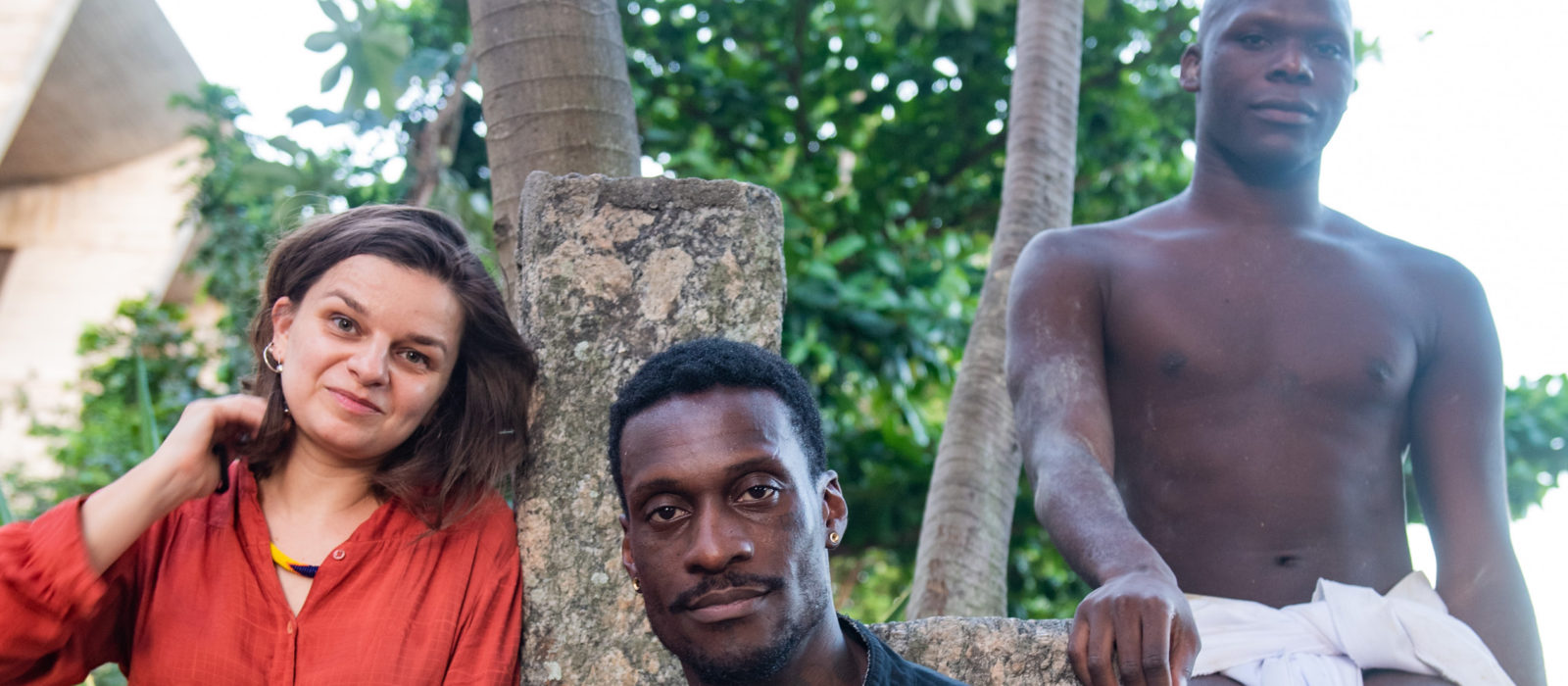 Loïc Koutana x NSDOS x Zorka Wollny present: The Ceremony (INT) 
a performative series in three acts in Rio de Janeiro / Berlin / Rennes, 2019-2020
---
In a climate of National and International insecurities, one of the greatest contemporary challenges is the birth of new communities. The Ceremony is a Novas Frequências (Rio de Janeiro) performative action that gathers Loïc Koutana (BR/FR), NSDOS (FR) and Zorka Wollny (DE/PL). Developed in collaboration with ICAS (International Cities of Sound) festivals CTM (Berlin) and Maintenant (Rennes) with the support of Goethe Institut and French Institute, the project will present ideas on migration, identity, minorities and space specificities through collective performances in three installments. The Ceremony wants to celebrate multiculturalism in a current time where respect, solidarity and human rights seems in danger.
The Ceremony brings together three artists from different backgrounds. They create a new space in which to employ their own respective tools and methods ; a nebulous work in progress featuring performance, creative lab, and multidisciplinary installation. The first iteration took place in December 2019 in Rio de Janeiro, using collective performance as a means of thinking through the complexities of immigration, identity, community, fluidity, and space. Thanks to the 15 guests (artists, musicians, dancers, etc.) who participate in this series: Alan Athayde/ Amanda Lebeis/ Andréia Santos/ Eduardo Ibraim. Hudyson Luiz Da Silva/ Koffi Mawunam/ Leandra Lambert/ Luiza Mascarenhas/ Mana Lobato Mpembele zoka elisee aka mc.lz/ Mariama Bah/ Marta Bonimond/ Mateus Tiburi/ Rodrigo With/ Sagrace Membe Lenga/ Victor de Oliveira Silva Ferreira/ Yuri Da Cunha Nunes Alvares.
Berlin hosted the second series in January 2020, with a performance at the opening of the exhibition and the presentation of various relevant objects. Their exploration of migration, communities and identities will continue in Rennes in October 2020.
---
Migration Series I – Rio de Janeiro, nov/dec. 2019
---
The 3 artists
The collaborative, performative proposition is conceptualized and led by sound, performance and installation artist Zorka Wollny; techno hacker and electronic musician NSDOS, who has an active interest in the intersection of sound and movement; and dancer and performer Loïc Koutana, also known as part of brazilian sensation Teto Preto and one of the creators of São Paolo's party collective Mamba Negra.
LOÏC KOUTANA (BR/FR)
Four years ago, model Loïc Koutana traded Paris, his hometown, for São Paulo. It was in Brazil that this French artist of African origin developed not only his modelling career, but his career as a contemporary dance performer, acting as one of the main names of São Paulo's underground nightlife with Teto Preto, Laura Diaz's group, one of the creators of Mamba Negra. Koutana is a multi-artist, curator and also a youtuber. Soon he will be releasing his first album "Ser", produced by Zopelar.
NSDOS (FR)
After dance studies, NSDOS, aka Kirikoo Des, sought to create sounds on which to pose his movements. He then had to imagine a new sound order, an alternative approach to music – by abstraction. Sometimes called the "hacker of techno", the artist distorts technological tools creating the link between machines and matter. He collects living data, using sensors or interactive devices and injects them into the rectilinear skeleton of electronic music to make an organic matrix. NSDOS invites the public to push back with him the limits of the body, objects and sounds.
ZORKA WOLLNY (DE/PL)
Zorka Wollny creates acoustic compositions for institutions, factories and empty buildings. Her works inhabit a space between art, theatre and contemporary music, and are always closely connected to the historic and functional context of specific architectural sites. Her works have been exhibited at the most prestigious contemporary art institutions and music festivals all over the world. 
All the pictures © Francisco Costa – Novas frecuencias 2019 (Rio de Janeiro)