Visual identity 2020 – Joanie Lemercier + Pierre Vanni
Publish on 29 June 2020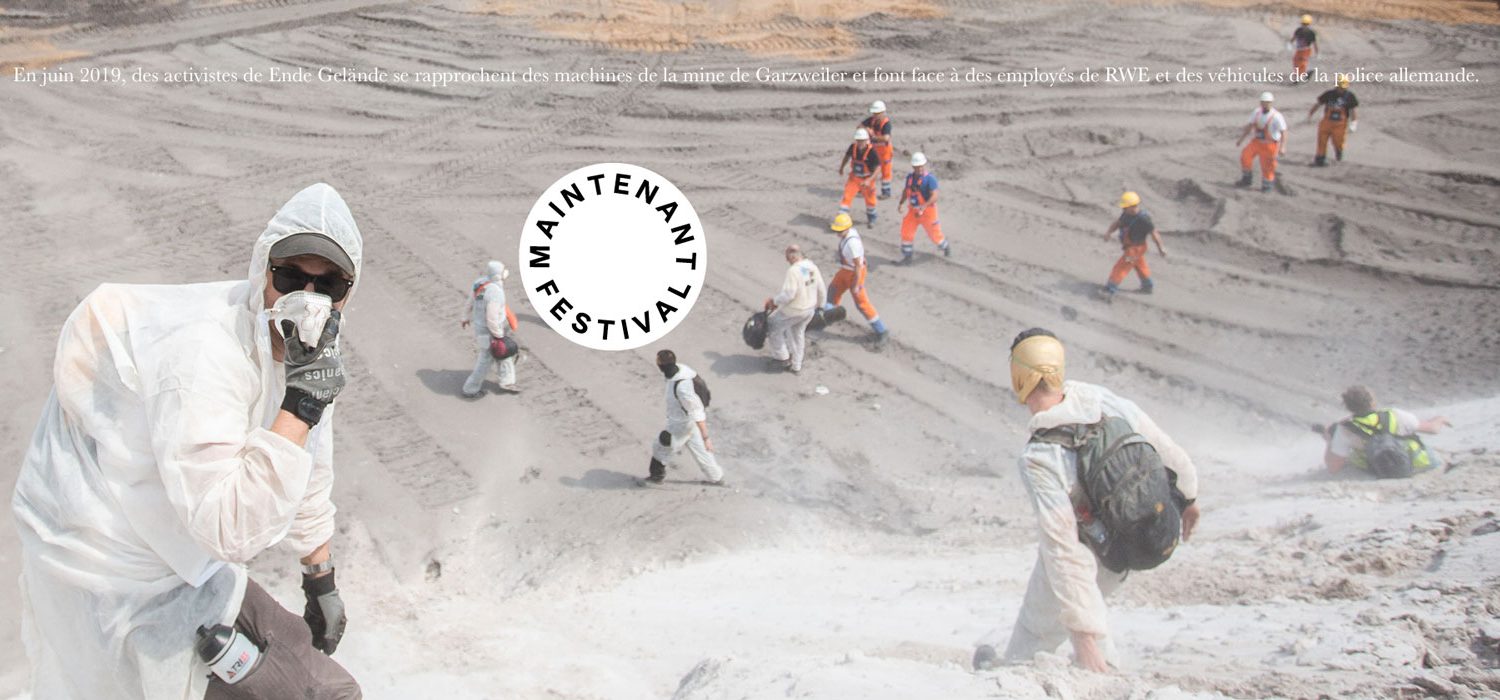 Maintenant festival entrusts the visual identity to an artist and presents it to the public as the first creation of the festival. As a singular edition, 2020 marks a turning point with a carte blanche and unique collaboration.
After Jean Jullien, Guillaumit, Vincent Broquaire, Hell'O Monsters, Andrea Wan, Ori Toor, Katie Scott, Erosie, Plasticbionic et Laurie Rowan… Joanie Lemercier + Pierre Vanni offer us a radical and socially-engaged creation, a collection of 9 combinative visuals that we will unveil in the coming weeks.
For Joanie Lemercier, Art and Activism are two sides of one coin. Thus, he has composed two series of images responding to these topics, from his personal archives and photographic reports. The Art series invites contemplation, in a relationship built between nature and technology. The Activism series shows actions with poor media coverage, and publicly exposes the ongoing tensions around ecological issues. This identity reveals what contemporary artistic creation allows us: to look both poetically and politically at the world around us.
In dialogue with the visual artist, Pierre Vanni has created a modular system, based on a photographic corpus and a minimal graphic composition. The visual identity of Maintenant 2020 reflects Joanie Lemercier's artistic practice and ecological commitment. Like his creations, it aims to combine aesthetic impressions and radical expressions. Moreover, his pointillist drawing — a collection of graphic individualities gathered on the same globe — aspires, on reading recent events, to become the emblem of the 2020 edition.
"I see my work evolving around trees and forests, the energy from the sun and the wind, laser or solar projectors, transparent screens made of water droplets, clouds, mirrors and optics, sensors, recycling and upcycling, drones, hiking, creative coding, mountains and volcanoes. The identity, a series of visuals created with Pierre Vanni for the Maintenant festival, is a glimpse into these imaginary worlds at the intersection of activism, technology, art and nature." Joanie Lemercier
The visual identity designed by this creative duo is a collection of imaginary worlds at the intersection of activism, technology, art and nature. This takes its full meaning in the story of the association, as Electroni[k] is constantly attentive to take a renewed look at the world surrounding us and its deep mutations.