The festival is changing its name to better express what we want to promote: presenting our vision of today's creation and sharing unique experiences in unexpected places. Maintenant, it is for us a term that, in all its simplicity, sounds like a manifesto: the injunction to remain singular and pioneering.
During this week of October, we opened the doors of the city to extraordinary adventures: transforming a public square into a rhythm box, hearing hundreds of cardboard boxes resounding in the Champs Libres and the Musée des Beaux-arts, printing pancakes, lighting up the world… we brought to life poetic, surprising, demanding and touching moments.
Maintenant in 2013, we have welcomed the Swiss artist Zimoun for two monumental creations that have enchanted many spectators. We also remember Lesley Flanigan's performance at the Musée des Beaux-arts in Rennes, a very nice contrast in this very beautiful setting.
Visual identity by Hell'O Monsters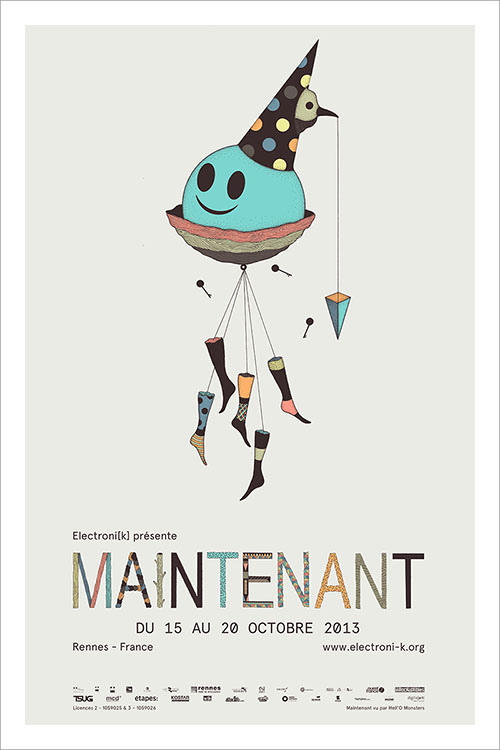 Loup Barrow (FR), Orchestre des hauts-parleurs & Benjamin Le Baron (FR), Nicolas Bernier (QC), Zimoun (CH), Zimoun & Hannes Zweifel (CH),  Fragments (FR), Kiwisubzorus & Mioshe (FR), Richard Louvet (FR), Matthieu Chevalet & Étudiants atelier clips vidéos Rennes 2 (FR), Les gordon (FR), Colleen (FR), Nicolas Auger (FR), Corentin Le Bris (FR), Nins & Ankiel (FR),  Douchka & Diane Grenier (FR), Alex Cherkesly (FR), Bowerbird (FR), Aline Brugel (FR), Marie Theurier (FR), LG Rivales (FR), Manon Riet (FR), Chapi chapo et les petites musiques de pluie (FR), Manuel Chantre (QC), Bertrand Duplat (FR), Richard Eigner & robert Seidel (AUT/ALL), Lesley Flanigan (US), Vincent Morisset (QC), Vincent Broquaire (FR), Aline Brugel & Cyril Cosquer (FR), Collectif Data (FR), Stephan Mathieu (ALL), Tristan Perich (US), Anne-clémentine Fleury & Flavia Lopez (FR), Nico Muhly & Orchestre symphonique de Bretagne (US/FR), Jeff Mills (US), Mason Bates (US), Thomas Rutgers & Jitske Blom (NL), Blondes (US), Funkineven (UK), Pale (UK), Ange (FR), Actress (UK), John Heckle (UK), Delta Funktionen (NL), Spirogaffe (FR), Elshopo (FR), Vincent Godeau (FR), Lab212 (FR), Le bureau (FR), Studio G&M (FR), Les M (FR), Superkingdom (FR), Ali (FR), Romain Scordia et Ronan Thersiquel (FR).
La Cantine numérique, Antipode MJC, Les Champs Libres, Maison de quartier Villejean, UBU – Salle de musique ATM, Théâtre National de Bretagne, La Poste République, Le Tambour – Université de Rennes 2, Théâtre de la Parcheminerie, EESAB – Site de Rennes, Le 4bis, Musée des Beaux-Arts, Le Diapason – Université de Rennes 1, Grand Corbel MJC, Théâtre du Vieux-Saint-Étienne.