Maintenant 2022 ‣ Nuit Électronique is back
Publish on 30 September 2022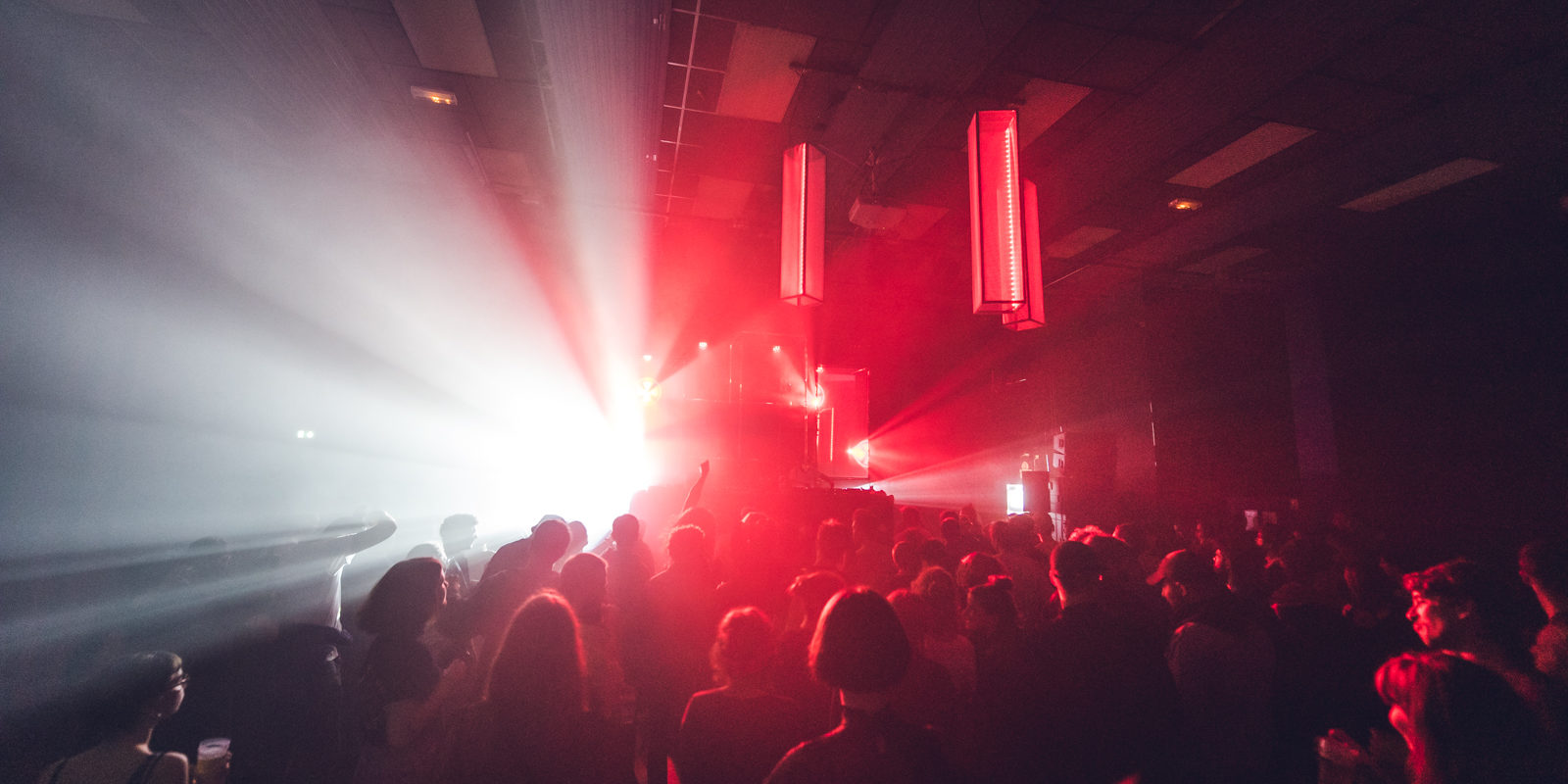 Present since the time when Maintenant was called Cultures Electroni[k], the Nuit Électronique is intimately inscribed in the DNA of the festival. For 20 years, the proposal has brought together on stage new talents, coveted visionaries and emblematic figures who shape the future of electronic music.
Here are some of the artists who marked the previous editions of the Nuit Electroniques: the Chilean-German Matias Aguayo in 2011, the mysterious Actress in 2013, the eclectic Lena Willikens in 2016, Mondkopf in 2009 with his electrospatial performance Eclipse, or the provocative Vatican Shadow in 2015, who had screamed at the partygoers of the Antipode 
Objekt – dj set 
Considered by his peers as the most gifted DJ of the UK techno scene, Objekt amazes with his extensive and varied discography, at the crossroads of techno, electronic abstract and jungle genres. Probably one of the most creative faces of the English electronic scene today.
Animistic Belief – live
Hailing from Rotterdam, Animistic Beliefs was born to perform live and thrive in any basement where they breathe new life into electro by twisting, distorting and contorting it into contemporary and mesmerizing occult structures.
Sherelle – dj set 
Young British DJ of 26 years, Sherelle is for many the leader of the new generation English rave scene, drunk with breakbeats and ultra-fast tempos. The London artist alternates with a bewildering dexterity, jungle, drum'n'Bass, juke and footwork.
Op.Echo de S8jfou & Simon Lazarus – live
When S8jfou's electronic music meets Simon Lazarus' animated painting, it promises an adventurous, tonic and dancing audiovisual performance: Op-Echo Live A/V. Lovers of graffiti and digital art, the duo share their vision of the world and an attraction for the off-screen.
Scène L'Atelier de création
Judgitzu – live
The ethnomusicologist Julien Hairon, aka Judgitzu, evolves in a futuristic techno universe and is inspired by Singeli, a frenetic music coming from the ghettos of Dar Es Saalam, in Tanzania, which mixes both electro beats and traditional music samples.
Pö – dj set
DJ and performer of the Nyege Nyege collective, Pö sets full of solar energy that goes from Afro-Caribbean and Brazilian rhythms to the underground electronic scene of East and South Africa. Between kuduro, gqom, bouyon and singeli she will do everything to make you sweat.
Alexis Lumière – live
Prolific artist (La Femme, Forever Pavot, The Cavaliers…) and producer based in Rennes since 2020 (Fiat-Lux studio), Alexis Lumière is a composer of musical themes fed by synthetic melodies from his childhood. On stage, he is a formidable performer: mischievous and with impressive dexterity with his keyboards.
Célélé – dj set 
Member of Limbololo Soundsystem, resident of the team 35 Volts / Quincé, Célélé conceives very rhythmic sets oscillating between breakbeats, bass music, jungle and sometimes daring to put acid tracks in the corner of more cosmic sounds…