Mécaniques Discursives ► A wind-proof installation
Publish on 30 October 2020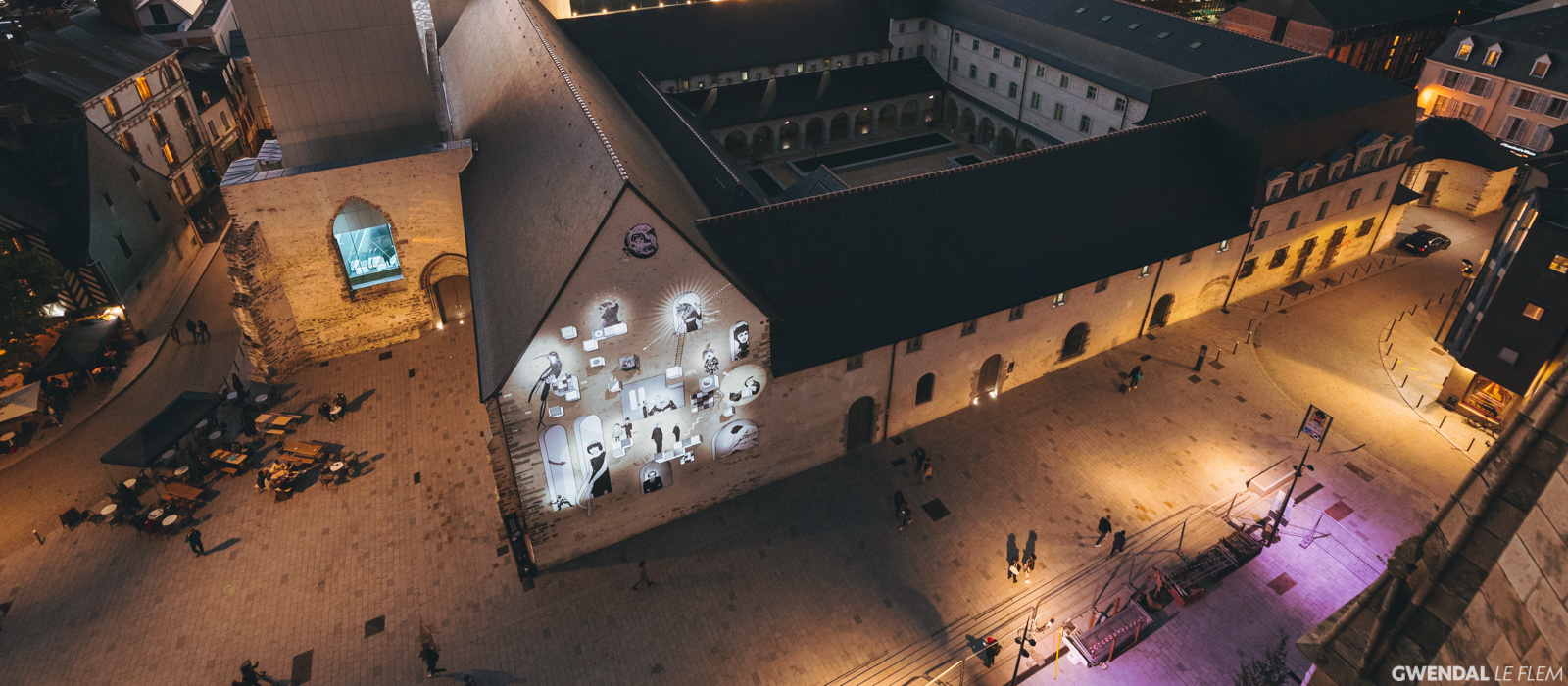 Mécaniques Discursives, the installation by Yannick Jacquet & Fred Penelle invited the public to stop, breathe and take the time to observe their chimeras that had taken possession of the wall of the Couvent des Jacobins in Rennes.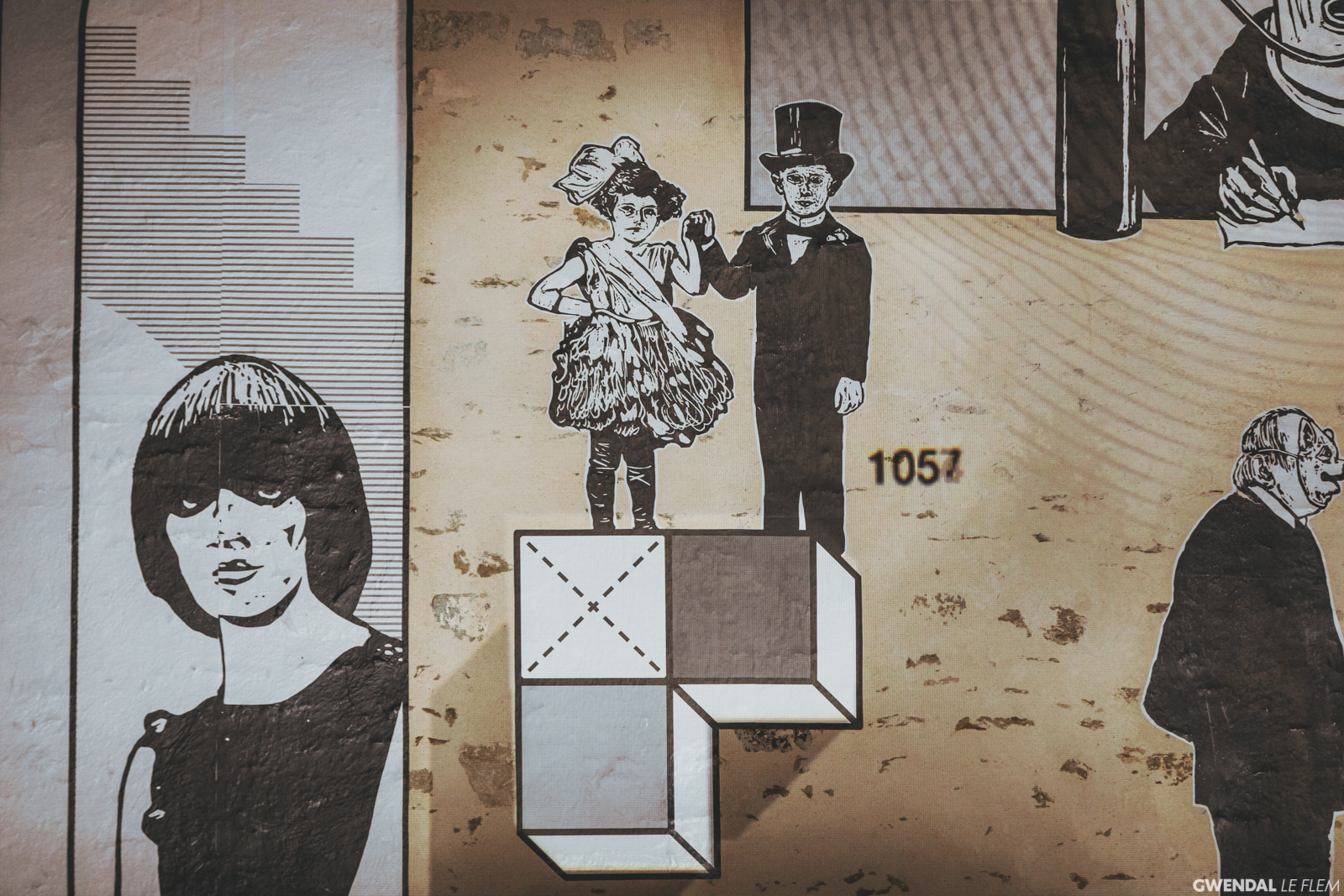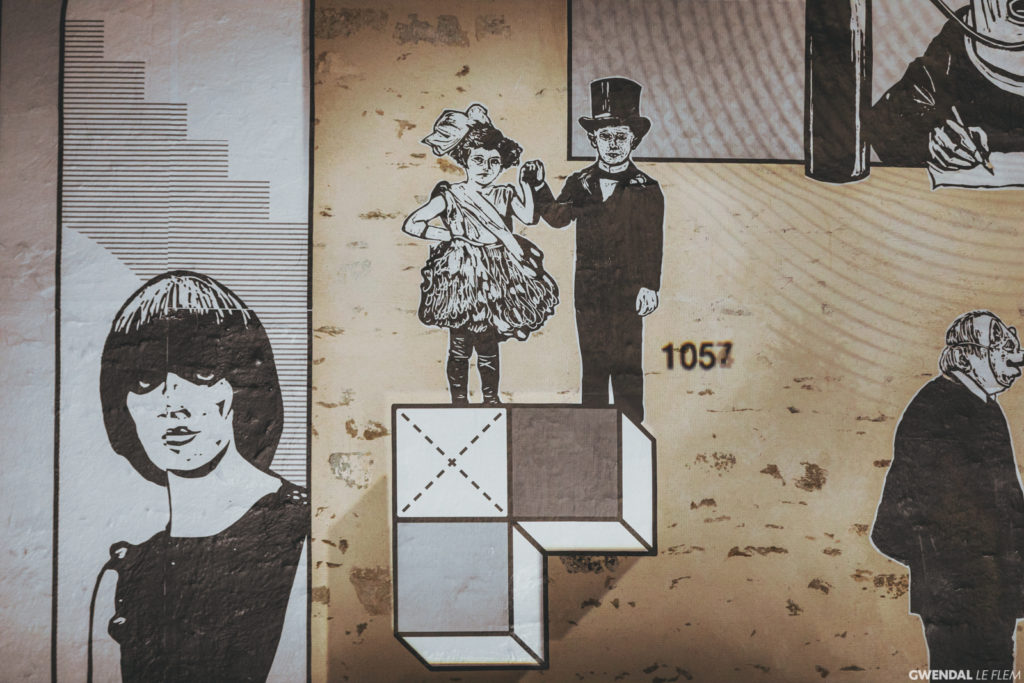 Presenting a piece of art in the public space is always a real challenge, and Mécaniques Discursives has proved it to us. After a first collage under the rain, followed by a sunny morning, the glue could not properly impregnate the wall of the Couvent des Jacobins. Fred Penelle 's printed engravings were therefore re-glued on the eve of the festival launch, thanks to the help of Patrice Poch (Teenage Kicks) at the very last minute, succeeding Blanbec who could not stay more than 48 hours on French territory, at the risk of being quarantined on his return to Belgium. And the artist Yannick Jacquet had to rework the in-situ video-projection of the piece on the wall of the Couvent des Jacobins. Everything seemed to be back in order, but that was without counting on the storm Alex, which rose the next night and destroyed most of the collages. For the festival's launch, Mécaniques Discursives was unable to be presented to the public.
During the weekend, all the technical teams and volunteers of the festival were involved in reprinting, cutting and installing the monumental collages of the installation. Special thanks to Cédric Ravier and Maël Teillant, Jo and Cédric from Grand-Géant, Boris Clénet and Marcie Sitouze, and of course to all the volunteers who worked on all these stages, which enabled Mécaniques Discursives to be visible in its entirety again on Monday, Place Ste-Anne.
Like the presentation ofMécaniques Discursives, the organization of the 20th edition of Maintenant festival has seen many twists and turns. For six months, the festival's teams built, deconstructed and rebuilt the programming, trying to adapt to the sanitary measures, in order to allow artists and audiences to meet, to experience moments of culture, exchange and poetry. The festival has been maintained thanks to the strength of the collective, sharing the conviction that culture is a vital and essential element in our lives, and that it contributes to everyone's well-being.
Many thanks to all those who took part in the 20th edition of the festival and a special thought for the cultural events that could not take place this year and those that had to close their doors once again. ✊