The Ceremony
Franka Marlene Foth, Linda Hayford, Loïc Koutana, Mana Lobato, Nay-Seven, NSDOS, Viktor Stargazer & Zorka Wollny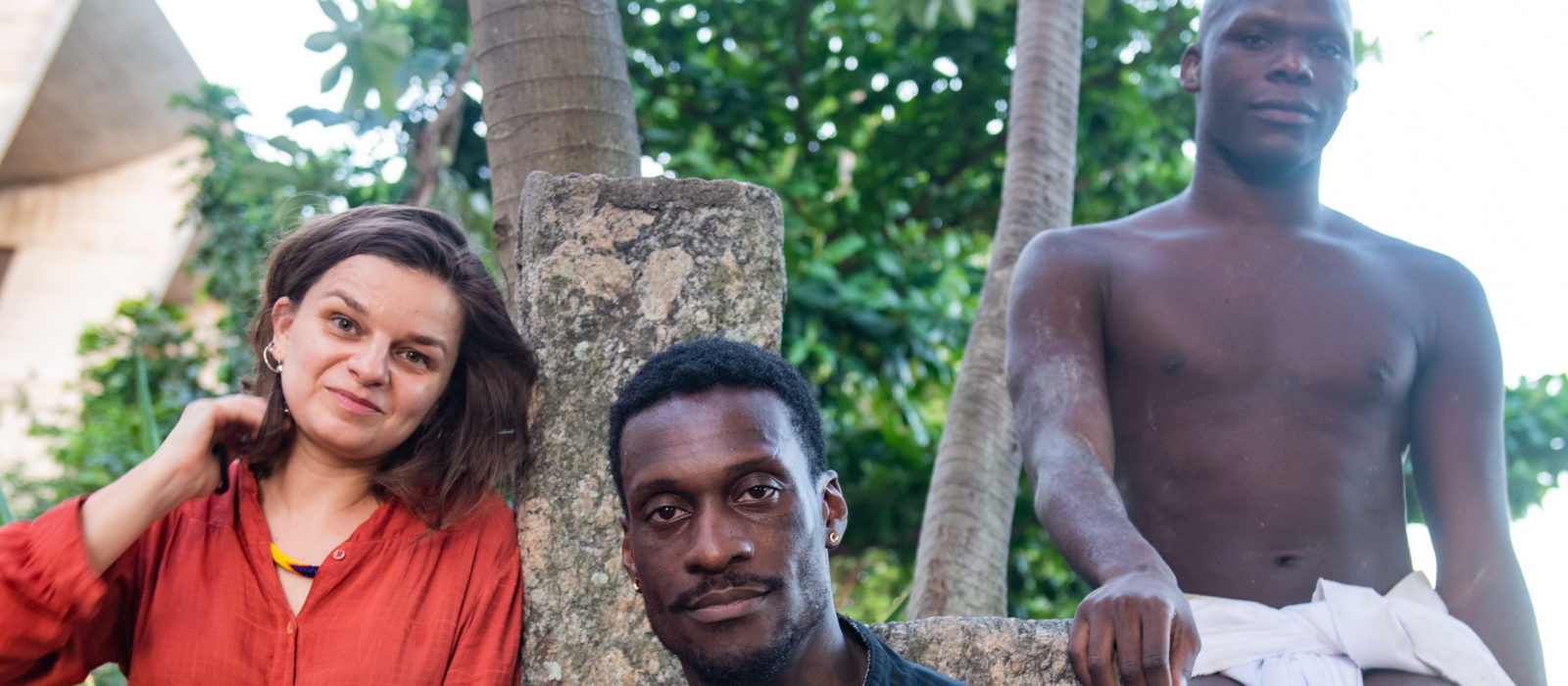 December 2019 to October 2020
In a climate of National and International insecurities, one of the greatest contemporary challenges is the birth of new communities. The Ceremony is a Novas Frequências (Rio de Janeiro) performative action that gathers Loïc Koutana (BR/FR), NSDOS* (FR) and Zorka Wollny (DE/PL). Developed in collaboration with ICAS (International Cities of Advanced Sound) festivals CTM (Berlin) and Maintenant (Rennes) with the support of Goethe Institut and French Institute, the project present ideas on migration, identity, minorities and space specificities through collective performances in three installments. The Ceremony wants to celebrate multiculturalism in a current time where respect, solidarity and human rights seems in danger.
The Ceremony gather three artists from different background. They create a new space in which they use their own tools and creative processes and invite other other artists to join them.
A journey back of these three series with images:
Migration Series III - Rennes (FR)
From the 28th of September to the 3rd of October 2020
This performance is the third part of this collective adventure on several territories. It was the result of a week of residency at CCNRB and online. The residency was handled by NSDOS & Loïc Koutana with the participation of local, German and Brazilian artists who already participated in the first two chapter of this international cooperation:
Images and videos:
Migration Series II - Berlin (DE)
From the 24th of January to the 2nd of February 2020
The collaborative, performative proposition is conceptualised and led by sound, performance and installation artist Zorka Wollny ; "techno hacker" NSDOS, who has an active interest in the intersection of sound and movement; and dancer Loïc Koutana, also known as part of Brazilian sensation Teto Preto and one of the creators of São Paolo's party collective Mamba Negra.
The Ceremony's Berlin iteration took place within the context of CTM 2020 Festival. A video installation documenting the Migration Series 1 in Rio de Janeiro was shown within CTM's "Interstitial Spaces" Exhibition at Kunstquartier Bethaninen.
For the exhibition's opening night on 24 January 2020, the artists Zorka Wollny, NSDOS and Loïc Koutana proposed a ritual-performance that enveloped the audience with haunting sounds of Wollny's The Psychedelic Choir – which on this, included singers Pauline Payen, Karoline Strys, Leah Buckareff, and Irina Gheorge – as well as the unpredictably unraveling movements of Koutana leading local dancers Franka Marlene Foth and Nina Burkhardt – who were selected via open call – and the participation in connection with NSDOS, of Viktor Stargazer from Migration Series I, on a giant screen online from Brazil.
Videos:
Migration Series I - Rio De Janeiro (BR)
From the 18th of November to the 8th of December 2019
From November 18th to December 8th, 2019, Novas frecuencias created an Temporary Autonomous Zone to do experiences such as workshops (coding, dance, singing, field recording and vogue), conversations, a pirate radio station, body movement practice, etc… They could count on the presence and contribution of 15 participants with their creations and creative processes. Throughout this TAZ, the material gathered allowed to build a final performance entitled The Ceremony, which 1st serie took place on December 8th at the Museum of Modern Art in Rio de Janeiro (MAM-RJ).
Videos:
---






The Ceremony is an initiative by the member of the ICAS Network Novas Frequências (Brazil), Maintenant Festival (France) and CTM Festival (Berlin), with the support of the Goethe-Institut and the French Institute.


*NSDOS was a SHAPE artist in 2017. SHAPE platform is an initiative co-funded by the Creative Europe Program of the European Union.